The German UHT Tiger combat helicopters are about to be replaced by the German Ministry of Defense. Numerous maintenance problems have put the Bundeswehr's 51 Tiger helicopters in jeopardy. According to documents obtained by Business Insider, these helicopters will be replaced by 24 H145Ms, but the German military perceives this decision as political and not meeting the needs of the Land Forces.
A problematic German Tiger
The German Army's (Heer) Tiger combat helicopters have already been the subject of much ink. For example, they have reliability issues: in 2011, only 11 helicopters were airworthy. A little less than 10 years later, at the end of April 2022, Defense Minister Christine Lambecht announced during a session in the Bundestag (German parliament) that the maintenance of the 51 German Tigers was catastrophic, with only 9 helicopters operational. Several solutions have been launched, with the creation of a new maintenance squadron for 2025, the creation of the Maintenance Improvement Plan Wave 2,... but the first results will only be visible at the end of 2023 and a general ramp-up of the fleet by 2026!
Still, the future remains very bleak for Germany's only main combat helicopter:
"temporary capability limitations" are reportedly envisaged in 2025
an initial reduction in the number of helicopters by 2027
diminishing German anti-tank helicopter support in external operations by 2029
between 5 to 6 Tigers sent for scrap each year as early as 2032
A replacement?
The longevity of the German Tiger is also problematic for the Heer because the helicopter has been in service since 2005 and no upgrades are planned. Germany was obviously invited to participate in the Tiger MkIII program. Germany did not apply for this program, which includes France and Spain... but the fate of the German Tiger would seem to have already been decided within the Ministry of Defense: according to a series of recent articles from Business Insider Deutschland, which is based on secret documents from the German Ministry of Defense. The Tiger's days are numbered! The MkIII upgrade would be deemed too expensive and too slow to produce (deliveries between 2029 and 2034), thus forcing the Heer to turn to a replacement. The American AH-64 Apache had been considered, but it was also too expensive and too slow to receive. The solution would then lie in a future purchase of 82 H145M helicopters for approximately 3.05 billion euros. Of these 82 helicopters, 24 would then be equipped for anti-tank warfare.
Against the advice of the military
The Bundeswehr's Aircraft Technical and Airworthiness Center (Wehrtechnische Dienststellen 61, WTD 61) would have given an unfavorable opinion of this decision; it would be a "purely political decision that ignores operational needs." The H145M is obviously a very good military helicopter, as confirmed by its exports and notably more than 460 UH-72 Lakotas used by the US Army. However, it is a multi-mission helicopter (qualified as light within the US Army) with a light combat capability that is in no way comparable with the capabilities of the Tiger, Apache, Viper, etc.
The idea would be to buy an augmented version of the H145M, however, with improved avionics, a five-blade rotor, airframe reinforcement, a modified cockpit, etc. allowing to increase the payload capacity to 2 tons against 150 kilos on the basic version. So obviously, the planned improvement of the 24 helicopters will allow an increase in capacity, but it remains to be confirmed in relation to other capabilities: crew survivability, maneuverability under full load, guidance and reconnaissance capability, etc. This number is also very low: while the Heer will have to do without its 51 Tigers, their replacement by 24 H145Ms seems very low, especially at a time when the geopolitics in Europe have been transformed with Russia's invasion of Ukraine in February 2022. These 24 helicopters would then represent the one and only helicopter-borne anti-tank support for the entire German Land Forces as early as the 2030s.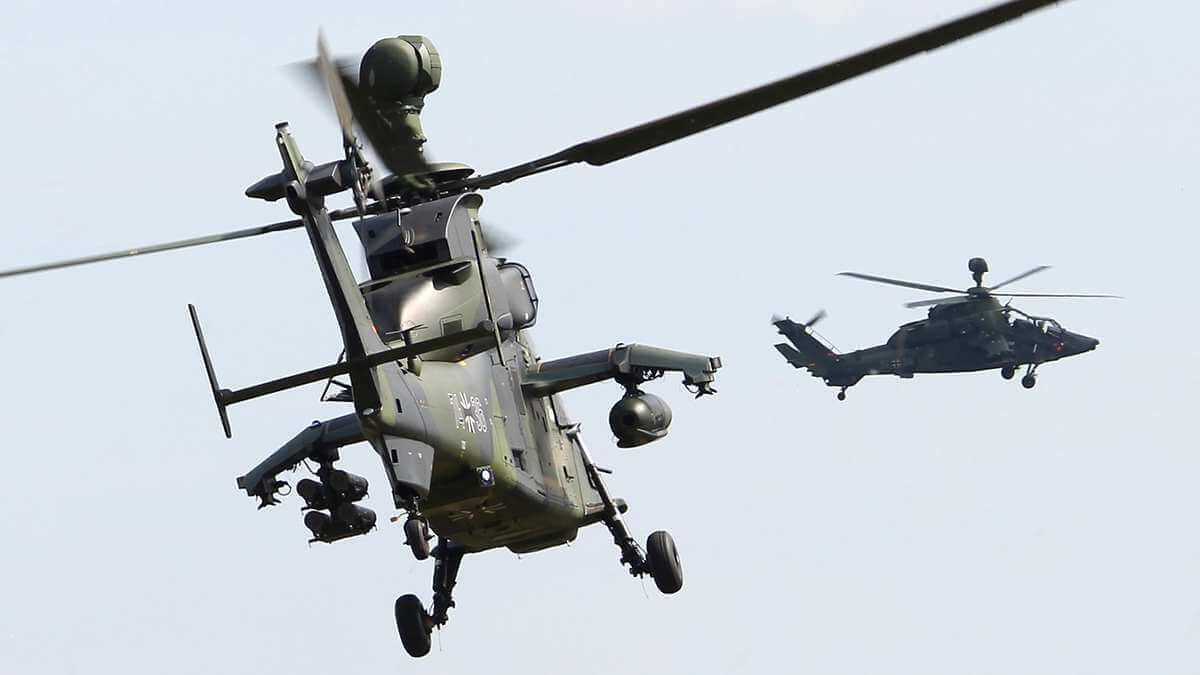 UHT Tiger
The air component of the German Land Forces (Heeresfliegertruppe) has 51 Tigers in a version developed specifically for German requirements; the UHT Tiger. The Bundeswehr wanted a combat helicopter that could be quickly adapted to a wide range of missions. For this reason, it does not carry a 30 mm cannon in its turret. Its armament is then only integrated on under the 4 points of carry of the wings ;
M3P 12.7 mm heavy machine gun pod (FN HMP 400), with a maximum of two pods
70 mm (unguided) rocket container of 19, with a maximum of two containers to deal with soft targets and light armored vehicles at a range of 6 kilometers
Stinger air-to-air missile, with a maximum of four missiles (two on each external carry point)
PARS 3 LR anti-tank missile against tanks and armored vehicles, with a range of 7 kilometers in infrared guidance (four on a single internal carry point)
HOT 3 anti-tank missile but replaced by the PARS 3 LR
It also differs from the HAD and HAP Tigers in that it carries the Osiris gyrostabilized electro-optical sight but mounted on a mast (above the main rotor). Manufactured by SAGEM, it allows the implementation of anti-tank missiles and an optical/infrared reconnaissance capability.
Other characteristics:

Engine: two MTR390-2C (1,300 horsepower)
Speed (max): 268 km/h
Life expectancy: 2.5 hours
Range: 725 kilometers
Weight: 6.1 metric tons