Sébastien Lecornu, French Minister of Defense, confirmed in an interview that France has delivered two Crotale NG anti-aircraft systems and two Unitary Rocket Launchers to the Ukrainian Armed Forces. He also announced that a Ukrainian request was also being analyzed by the Ministry of Defense.
Two important French systems for the Ukrainians
Since the outbreak of the Russian invasion of Ukraine, France decided to support Ukraine, but it was and still is criticized for this support. Indeed, the different combat systems, weapons and ammunition, etc. are only very rarely revealed by the Ministry of Defense. This decision was taken in order to keep a greater margin of manoeuvre on the international scene in particular. A few items of equipment have been unveiled, but they mainly concern anti-tank missiles, MANPADS, ammunition, etc. (see article on the subject). In terms of medium or even heavy equipment, deliveries appeared to be limited to 18 CAESAr self-propelled howitzers.
However, on November 19, in an interview with the JDD, Sébastien Lecornu, France's Minister of Defense, confirmed that French heavy military aid was not limited to CAESAr self-propelled howitzers. He confirmed that 60 VAB (Véhicule de l'Avant Blindé) armored personnel carriers had been delivered. The exact number was estimated, but this statement provides official information on the number of VABs delivered. There is also the more recent delivery of two new systems not yet - or at least officially - delivered: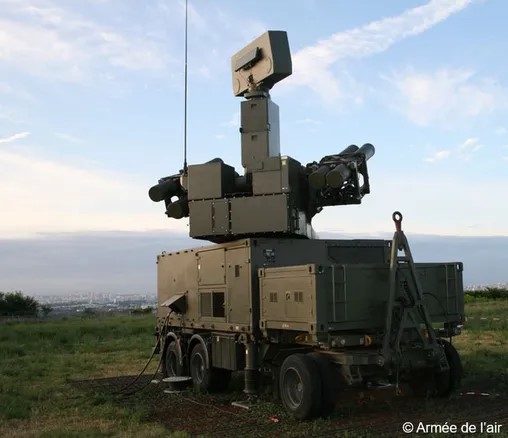 Two Crotale NG anti-aircraft systems: on October 12, 2022, French President Emmanuel Macron had already announced the delivery of an anti-aircraft system without ever directly mentioning the model, but unofficial announcements clearly suggested that the Crotale NG would soon be delivered (more info in the middle of this article). This interview with the Minister of Defense thus confirms the delivered system. Moreover, he also confirms that these are not old launchers and that the Armée de l'Air (French air force) will therefore part with two launchers to NG standards. However, the capability hole is minimal as this system is being replaced.
Two Lance-Roquettes Unitaire (LRU): this is an upgraded M270 MLRS, which itself is based on an M2/M3 Bradley chassis. It carries two baskets of 6 rockets that it can reload itself thanks to a system integrated in the launcher. It allows the LRU to be independent of any specialised vehicle, a refuelling truck carrying the rocket baskets being quite sufficient. It differs from the first M270 models by the addition of an electric firing line (battery life reduced to about one minute), GPS guidance (vehicle and launcher), reinforced cabin seats, air conditioning, ATLAS digital system, etc. In terms of ranges, it can project M31 rockets to around 70 kilometers and this, with an accuracy of 5 meters (according to the Armée de Terre).
The two Crotale NGs will complement the anti-aircraft systems already delivered but also, and more importantly, complete the anti-missile capability of the Ukrainian air defense. As for the LRU, its firing capabilities coupled with its accuracy will allow the Ukrainian Ground Forces to increase pressure on the rear of the Russian/Pro-Russian Armed Forces.
A future COBRA delivery ?
The Ukrainians are looking to acquire capabilities to detect Russian artillery positions. In fact, the defense minister has also announced that this issue is being studied within his ministry and that future deliveries of this type of equipment may be expected. Thus, it is possible that the Army is about to part with one or more COunter Battery RAdar - advanced Weapon Locating System (COBRA) radars. The Ukrainians are familiar with this type of vehicle, as Germany, another country using this system, has already given one to the Ukrainian Armed Forces. The system was developed by Airbus, Lockheed Martin and Thales for the needs of the German, British and French Armed Forces.
Concretely, it is a 3D mobile radar with an active antenna mounted on an off-road truck and capable of detecting, locating and identifying fire from enemy batteries. It can locate several types of fire:
81mm and larger mortars
105mm and larger guns
100mm and larger rocket launchers
Inversely, it can also improve Allied counter-battery fire by correcting directed fire at enemy pieces. Inversely, it can also improve Allied counter-battery fire by correcting directed fire on enemy pieces. For performance, the German and French COBRA systems are identical; 100 km range. The 6x6 truck chassis, however, is different.