Two days after the collision between a Russian Su-27 Flanker and a U.S. MQ-9 Reaper, a USAF RQ-4 Global Hawk UAV was tasked with reconnaissance from Romania and also over the Black Sea. The U.S. is demonstrating that despite attempts at intimidation, reconnaissance flights continue in this region. A British RC-135W Rivet Joint and one of the few US Navy EP-3E Aries IIs (less than 20 in service) were also present in Romania.
Background
Following the Russian invasion of Ukraine on February 24, 2022, numerous reconnaissance aircraft are conducting daily patrols around Kaliningrad, Belarus, Ukraine, and the Black Sea. A large majority of these flights can be seen on live tracking sites, as demonstrated in the images in this article. This March 17 was no exception to the rule: several aircraft flew over the Black Sea or a region near the Black Sea even though the tension has not yet subsided. The cause was the collision between a Russian Su-27 Flanker fighter plane and an American MQ-9 Reaper reconnaissance drone over the Black Sea. The drone was flying in international airspace when it was intercepted by the Russian aircraft. The latter performed several dangerous maneuvers, even colliding and causing the loss of the American drone (more info in this article). The tension then rose to a new level in the area, even more so if the Russians try to find and raise the wreckage of the drone.
Simple Turkish patrol
In the early morning, a Turkish maritime patrol aircraft ATR-72TMPA was taking off from its naval air base in Cengiz Topel (Kocaeli, Turkey). Contrary to some announcements on social networks, this aircraft was probably conducting a simple maritime patrol of the area northeast of the Bosporus Strait and was in no way involved in monitoring Russian movements in Crimea or Ukraine.
This type of aircraft has been used by the Turkish Navy since 2013, with a total fleet of four aircraft. The Turks use these aircraft for multiple missions:
Maritime patrol (surveillance of the exclusive economic zone, maritime environment, anti-piracy,...)
Search and Rescue
Anti-submarine warfare
It is equipped with numerous sensors, including an Ocean Master 400 radar (351.88 km), an AselFLIR 200 FLIR (visibility up to 64.8 km), a sonar buoy dropping system, an AN/ASQ-508(V) magnetic anomaly detector (MAD) (4.5-metre long antenna, behind the tail), all centralized by the AMASCOS 300 mission system (Thales) and an L11 and L16 data link capability. No armament can be carried under the wings because they were not developed to carry loads under pylons. The aircraft can however carry two depth charges or two Mk 54 or Mk 46 Mod 5 torpedoes under two pylons located on each side of the aircraft, under the front part of the fuselage. These aircraft do not appear to be equipped with the ELINT suite (intelligence on jammers, radars, etc).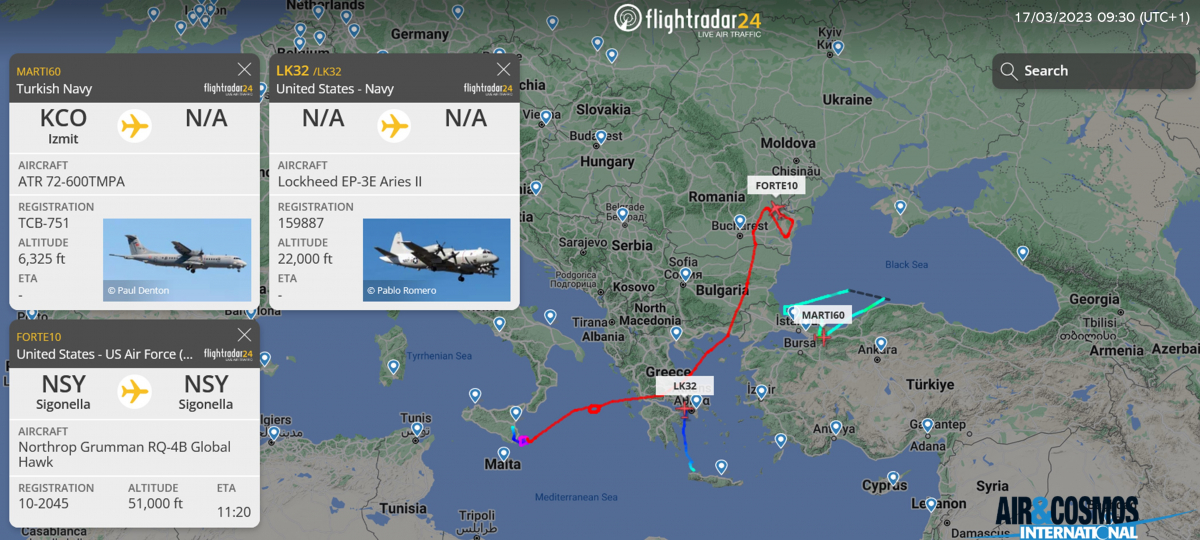 Tripled in Romania
As shown above, an RQ-4 Global Hawk high-altitude, long-endurance (HALE) reconnaissance drone took off from Sicily to patrol Romania. It will be joined later this morning by two other aircraft. A Royal Air Force RC-135W Rivet Joint and a rare US Navy EP-3E Aries II were also on a mission in the region. These are two electronic reconnaissance aircraft capable of detecting, identifying and geolocating any electronic emissions (SIGINT). The Rivet Joint carries out a few patrols per month in Romania, but generally flies around the Russian exclave of Kaliningrad and the border between Poland and Belarus. In contrast, the Romanian Black Sea coast is a favorite patrol area for the Aries II.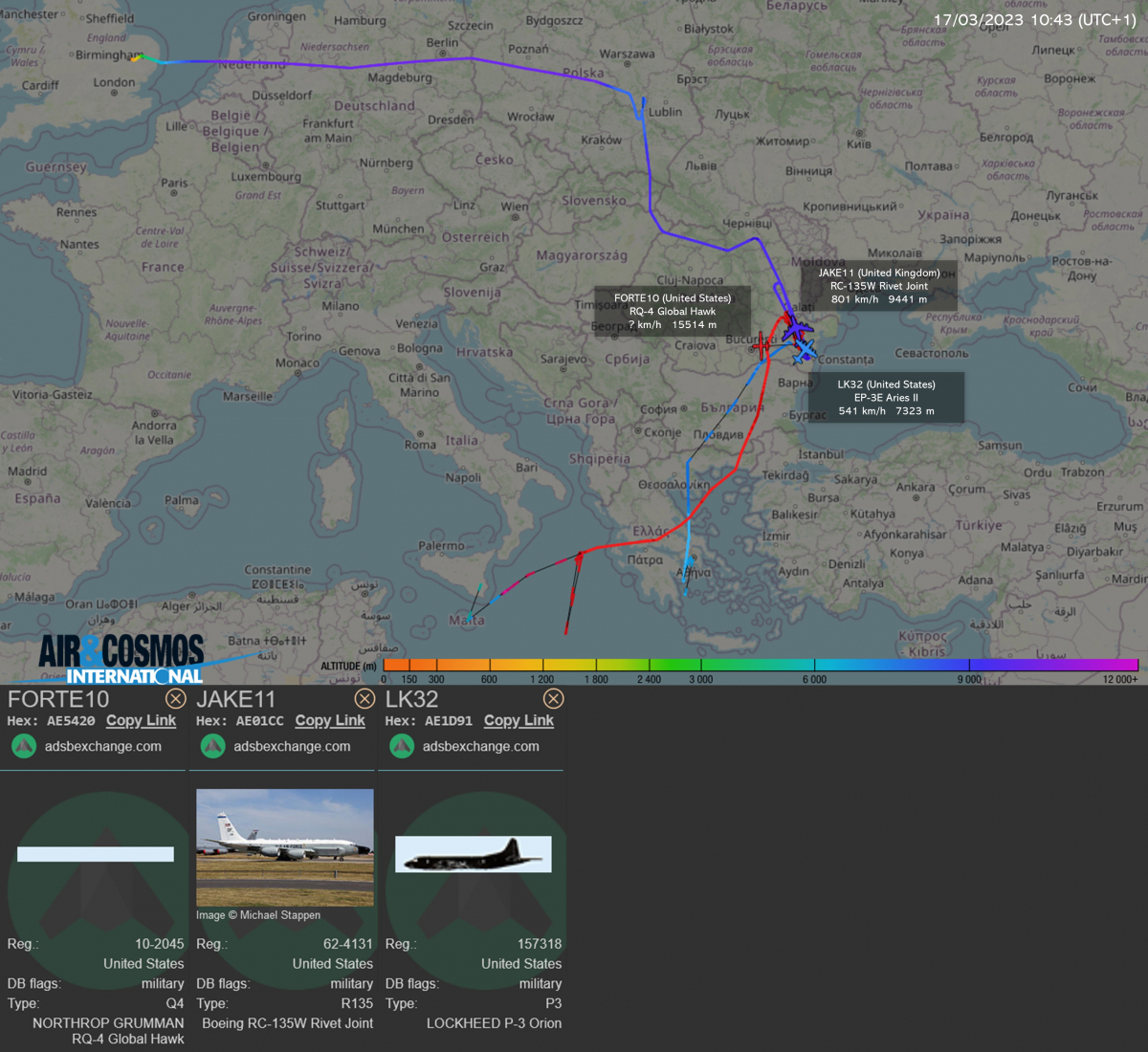 A drone over the Black Sea
This is the most important announcement: on March 16, the Americans lost a Reaper to the Russians, and less than two days later, they are taking off another drone toward the Black Sea. The RQ-4 Global Hawk took off shortly before 6 a.m. (Paris time) from its air base in Sigonella (Sicily, Italy). This base is known in Europe because in addition to hosting US Air Force RQ-4B drones, it also hosts the 5 RQ-4D Phoenix, used in the NATO Alliance Ground Surveillance (NATO AGS) program.
Once in flight, the drone climbs steadily until it reaches an altitude of 15,445 meters and then heads towards Romania. At around 9:00 a.m., it begins its patrol in Romanian airspace, making a circuit between the Romanian coast, the border with Ukraine and the border with southern Moldova. After completing a few rotations, the drone heads due east and then heads east to the Black Sea (image below).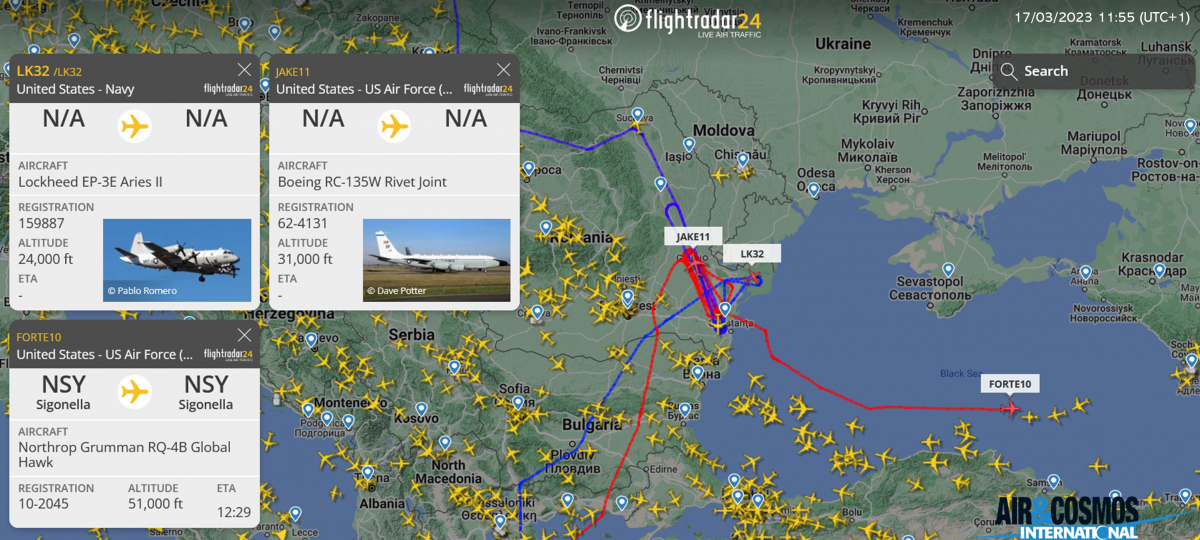 It is performing some reconnaissance circuits there before returning to Romania. At the time of writing, this US Air Force drone has flown more than 1,400 kilometers (the approximate distance between Paris and the Polish city of Rzeszów or even Granada in Spain). It will continue to fly for many hours because, as previously explained, it is a high altitude and long endurance (HALE) drone. With a wingspan of 39.8 meters (4 meters more than the A320 Neo), it can fly at an altitude of over 60,000 feet (18,288 meters) with an endurance of over 34 hours of flight or fly about 22,779 kilometers to allow it to make many rotations over its target.
There are several upgrades:
Block 10 (all retired)
Block 20; only an image-based intelligence (IMINT) capability. Four aircraft still in service and converted for hypersonic missile test follow-ups.
Block 30; electro-optical and infrared sensors (IMINT), synthetic aperture radar (SAR), and low- and high-band SIGINT sensors. In service since 2011, with approximately 20 UAVs in service by 2022.
Block 40; latest version developed for the USAF, with Multiplateform Radar Technology Insertion Program (MP-RTIP) AESA radar providing synthetic aperture radar (SAR) and moving target display (MTI) capability. In service from 2016, with approximately 10 operational UAVs in 2022.
Absence of combat aircraft
The various live tracking sites did not display any combat aircraft in the area. These aircraft are rarely visible when patrolling NATO's eastern flank, but their presence is quite often confirmed by the arrival of a tanker in the area. But in this case, that was not the case either, no tanker visible. This was not the case when the RAF continued its RC-135W Rivet Joint patrols after an Su-27 missile fire while intercepting a British Rivet Joint over the Black Sea (article on the subject). Note, however, in the image above that the Global Hawk was located quite far from Crimea.