The publication of a recent satellite photo of the Antonov airfield confirms the presence of Mriya in its hangar but questions the total destruction of the An-225. A video published around 1 pm today shows that the front of the aircraft is totally destroyed.
Brief background
When the war in Ukraine began, the Russians and Ukrainians fiercely contested the area of the Antonov airport. As a result of the fighting, the airport came under heavy fire: the Russians seeking to retake the area and the Ukrainians wanting to prevent any airborne operations.
On February 27, the Ukrainian government officially announced the destruction of the aircraft. This destruction was confirmed by a drone video showing the An-225's hangar on fire (you can find a detailed analysis of the drone image in this article).
A faint hope...
The satellite imagery company Planet recently posted an image taken on February 28 of Antonov Airport. It is possible to see several pieces of information regarding the hangar area of the An-225 (photo analysis below):
Mriya is definitely in its hangar
Thanks to a scale reproduction of the aircraft, it is possible to see that the part of the hangar above Mriya is intact.
In front of the hangar is an area of debris with what looks like a crater
This hope became futile earlier this afternoon.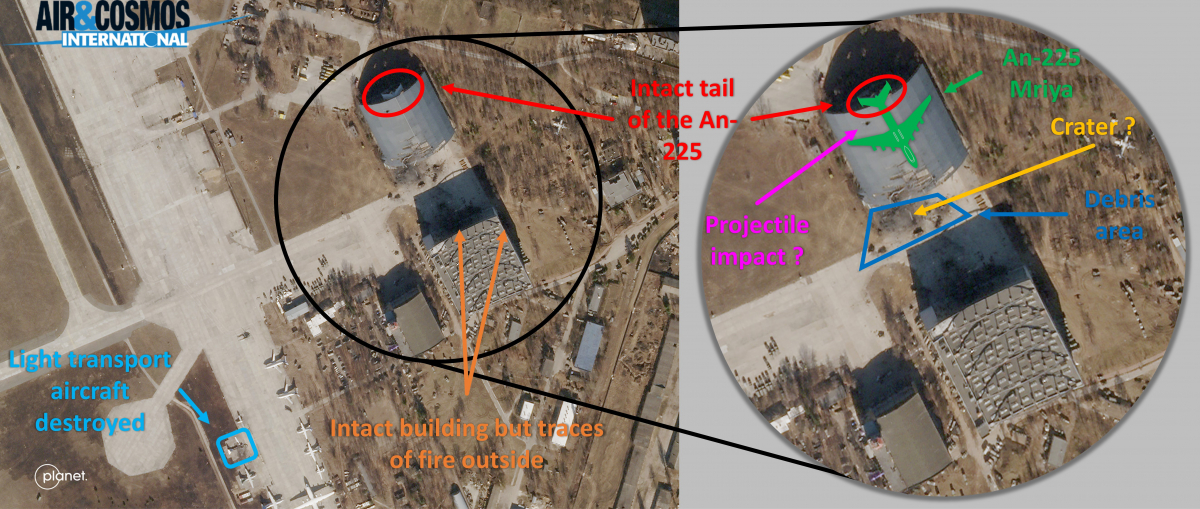 The end of the "dream"
A video posted in the early afternoon of this March 3 leaves no doubt: the front part of the plane, nose and cockpit included, has been completely decimated by a fire. The left wing seems to be whole, although damaged, up to the first engine, which seems to be intact. The right wing, on the other hand, is not visible.
The condition of the wings is extremely important in case a repair was considered because the basic structure of a second An-225 had been built at the end of the Soviet era but without the nose or even the wings and ailerons, which had been made outside Ukraine. The good condition of these parts would then allow a cheaper and therefore easier repair.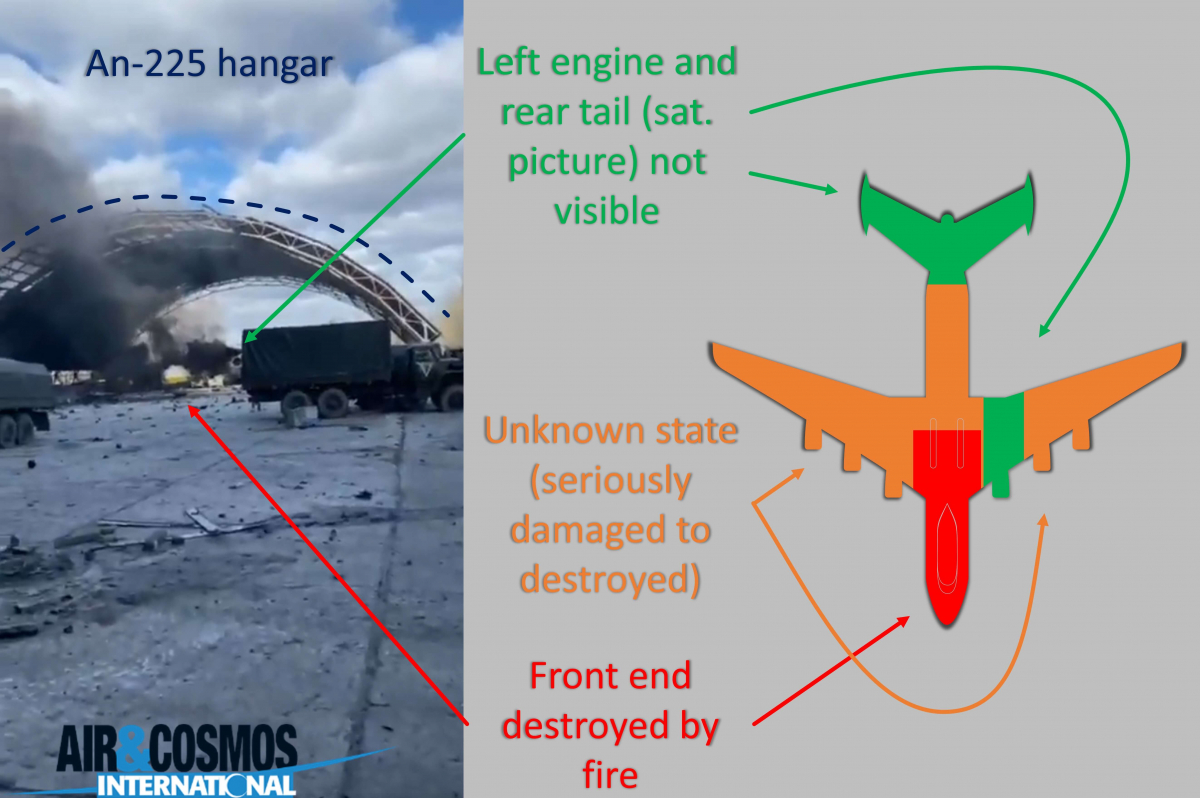 This article may seem trivial given the ongoing drama, but the attachment of many aviation enthusiasts to this unique aircraft in the world drives us to relay this type of more trivial information.