This article was last updated on 24 February 2022 at 14:20. The article will continue to evolve as events unfold.
The situation in Ukraine
During the evening of 23 February: Russia launched numerous hybrid attacks; in addition to hacking into government sites, Ukrainian soldiers were receiving threatening messages on their personal mobile phones.
A column of Russian vehicles of various types (about 7 km long) was reported near the demarcation line between Crimea and Ukraine.
24/02 at midnight: publication of a NOTAM.
A NOTAM over the entire border between Russia and Ukraine
Since midnight, Russia has issued a NOTAM to inform air traffic that the airspace over the entire border between Russia and Ukraine is closed. Russia estimates that the NOTAM will be in effect until 18 May.
Until late yesterday evening, Russia continued to amass a very large number of troops (around 200,000 men), which now have very recent equipment (T-90M tanks, BMPT armoured fighting vehicles, etc.) and a fairly impressive fleet in Sevastopol (cruisers, destroyers and even a flotilla of landing units).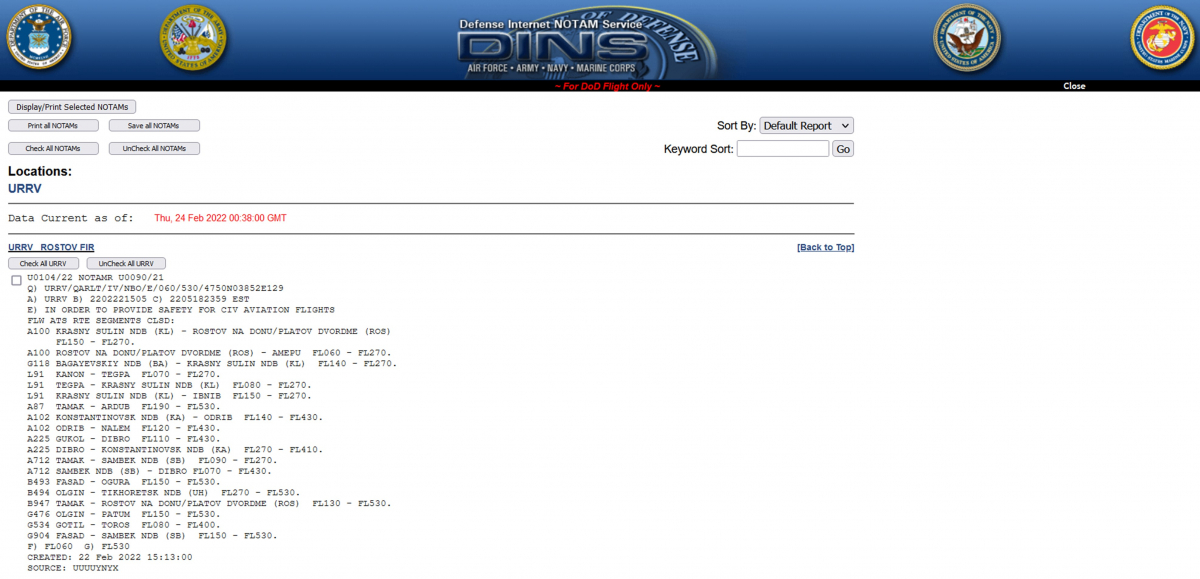 24 February :
At around 1.30 am, a Turkish A400M landed at Boryspil airport (not far from Kiev). It will be followed about twenty minutes later by a second Turkish A400M.
At around 2am, numerous explosions can already be heard on video in Mariupol (south-eastern Ukraine, close to the Donbass).
At 4am (Paris), Russian President Vladimir Putin gives a special speech on the situation in Ukraine: "We have decided to launch a special military action to denazify and demilitarise Ukraine" [...] "Any country that opposes the Russian intervention in Ukraine will face consequences far greater than any you have suffered or experienced in history. I hope you will hear this."
4.17am: Explosions near the cities of Kiev, Kharkiv, Kramatorsk and Odessa. The first videos of multiple rocket launchers appear on the networks.
4.41 am: Russian airborne troops reportedly land at Kiev International Airport.
4.53 a.m.: The air force comes into play; videos show the very recognisable sound of TU-95s (position unknown).
5.02 am: Landing operations underway in the Sea of Azov and Odessa (Black Sea). Odessa is strategic for the Ukrainian Navy as it is where the main naval units and the Navy HQ are located.
5.04am: According to unconfirmed information, the naval units in Odessa are all destroyed or out of action.
5.09am: The airport in Dnipropetrovsk (eastern Ukraine) is in ashes. The airport is said to be home to Ukrainian fighter planes.
5.23am: Ukraine closes its airspace.
5.36am: Mariupol falls to Russian and separatist forces. Ukraine no longer has any major ports.
5.44am: Russian Defence Minister Sergei Shoigu announces that precision missiles are being used to avoid civilian casualties. It is reported that most Ukrainian air bases have been targeted by these missiles.
5.47am: The Prime Minister of Latvia announces the opening of an emergency session at NATO on Article 4. Note that this article only concerns NATO member countries. It allows a country that activates it to request assistance from other NATO member countries.
6.20 am: The night ends. Some subsonic cruise missiles are visible and pass within 100m of the ground. It is getting light and a large part of the Ukrainian frontline facilities have been hit. An increase in ground manoeuvres is now to be expected.
6.28am: The pincer scenario is becoming clearer; after landing operations in the south, Russian and Belarusian troops are fighting Ukrainian units in northern Ukraine.
7.06am: Numerous videos show that the Ivano-Frankivsk airport has been seriously affected, given the scale of the fire and the plume of smoke. On Google Earth, (not recent), it is possible to see many Ukrainian fighter planes at the airport.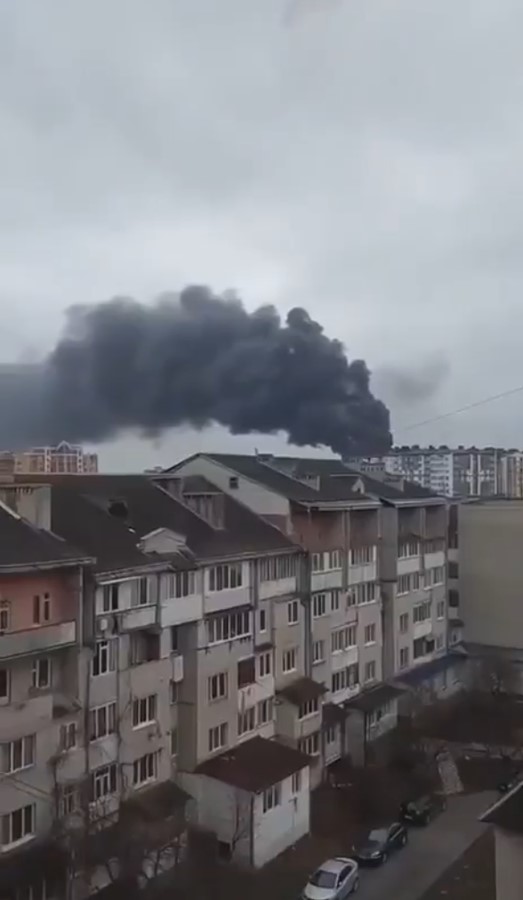 7.20 am: The column of Russian troops in Crimea has entered Ukraine.
7.22am: The Ukrainian President announced that "Ukrainian air defence has shot down 5 Russian planes and 1 helicopter in the Luhansk region".
7.40 a.m.: After fierce fighting, the villages of Schastia and Stanytsia fell to Russian and separatist troops. Several vehicles and notably 2 Russian-made tanks were destroyed by the Ukrainians.
8.00 am: The first picture of the port of Ochakov. The latter housed modern vessels (financed by the United States) to allow precise monitoring of naval operations by the Navy.
8.07 a.m.: Russian troops can be seen on the outskirts of Kharkiv (north-eastern Ukraine). It is therefore certain that the concentrations of armoured vehicles stationed in Belgorod have crossed the border.
8:17: Romania announced that a Ukrainian Su-27 has landed in Romania at the Bacău base. At the same time, it seems that Russian troops are taking over Kharkiv without a fight.
9:10 am: The Ukrainian Army is said to have counterattacked and retaken Schastia, the Russians are said to have lost about 50 men. The fighting is intense.
9.21am: [Information to be confirmed] As in 2014 in Crimea, it would appear that unmarked vehicles are being used by the Russians.
9.22am: Information warfare, the Russians announce that they have destroyed a large part of Ukraine's military capabilities, just as an adviser to the Ukrainian President announces that this morning's Russian strikes have failed.
9.42am: Lithuania has declared a state of emergency.
10.15am: Fighting has just broken out in the outskirts of Kharkiv. The Ukrainian army has not left the city. The Russian army is locking down access and shelling is taking place, with several civilians being hit. There are casualties on both sides.
10:28: Tension rises at a Polish border crossing, sirens warning of a bombardment have been set off in the village of Medyka (next to the border crossing). It may be a test of the system or a missile that landed on Ukrainian territory. There are currently no Russian troops in the area.
10:37: Ukraine breaks off diplomatic relations with Russia.
10.48 am: The Crimean Channel is fully secured by the Russians. In addition, the first vehicles cross the Dnieper. As a reminder, the first elements in Crimea had set off at around 7.20 am and advanced 60 km (there were several fights in this area).
Around 10.50 am: Alexey Arestovich, adviser to the Ukrainian President, gave an initial assessment: 40 Ukrainian soldiers and 10 civilians had lost their lives.
11.45 am: Ukrainian troops are outnumbered in Kherson (not far from Crimea) and have to withdraw to regroup.
12:00: Numerous helicopters (armed Mi-8s or variants and at least 1 Akula) were heading towards the airport. However, the area is not clear as many MANPADs (probably) have been fired at. Three aircraft were reportedly shot down (including at least one Ka-52, see video below). This airport is the home of Antonov and its giant An-225 Myria aircraft.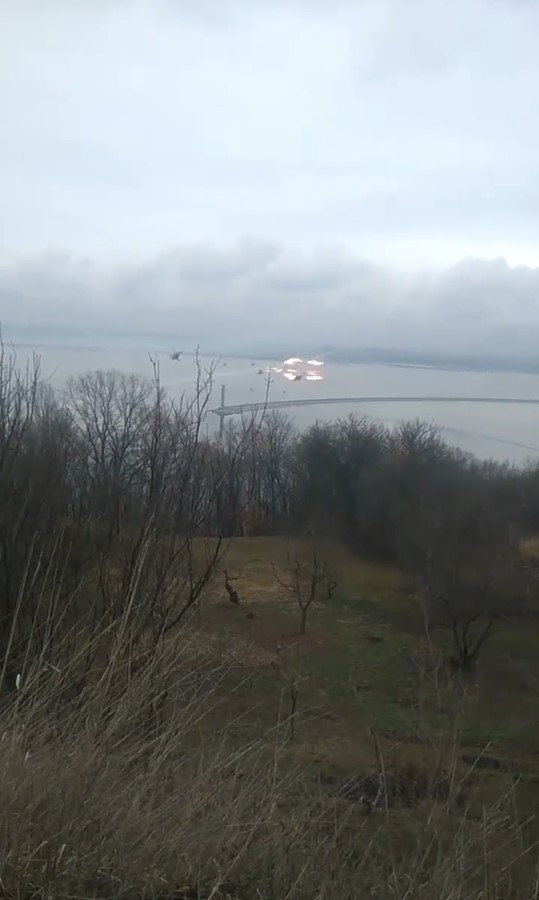 14.00: Bombing of Melitopol airfield. The base normally hosts IL-76 transport aircraft.
13:31: The fighting in the Kharkiv region continues unabated.