After the closure of the Ukrainian skies early Thursday morning following the invasion of Russian forces, Moldova, which has only one international airport in Chisinau, decided to do the same.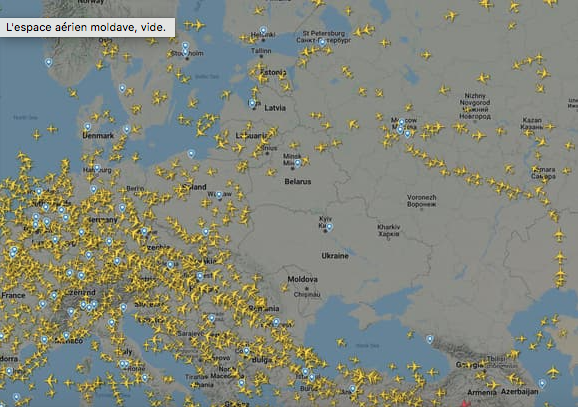 A big vacuum in the heart of Europe. This is what appears when you look at the Flightradar24 website, which shows the movements of all the airlines in the world in real time. This is the consequence of the invasion of Ukraine by the Russian armed forces on Thursday 24 February. As soon as the Russian armed operations began, the Ukrainian government announced the closure of its airspace. Moldova, which shares a northern and eastern border with Ukraine, also decided to close its airspace to all overflights as of Thursday 10:00 GMT. Chisinau airport, Moldova's only international airport, is normally served by FlyOne, Lufthansa, Wizz, as well as the two Moldovan airlines Air Moldova and Moldavian Airlines.
The European Aviation Safety Agency (EASA) was quick to react, announcing that Russian and Belarusian airspace within 100 nautical miles of their borders with Ukraine could also pose flight safety risks. The European Agency reacted very quickly in its warnings to airlines, as it wants to avoid at all costs another major problem similar to that of Malaysia Airlines flight MH17, which was shot down by mistake while flying over eastern Ukraine in 2014.
After KLM announced that it had suspended its flights to Kiev, the Ukrainian capital, ten days ago, Air France announced on Tuesday 22 February that it had suspended its two weekly flights between Paris CDG and Kiev until further notice, "in view of the situation on the ground". Air France also stated that it had not been flying over Ukrainian airspace "for several months".