Northern Macedonia has officially confirmed that this summer it transferred its 4 Su-25 attack aircraft to Ukraine. The latter had not been used since 2004 and will probably be cannibalized to maintain the Ukrainian Su-25 fleet. A delivery of Mi-24 Hind helicopter gunships is reportedly under discussion, but these are most likely Mi-24s that have also been retired and are not operational.
Confirmation of Secret Delivery
Slavjanka Petrovska, the defense minister of Northern Macedonia, recently confirmed that her country had transferred Su-25 Frogfoot attack aircraft to Ukraine. The transfer is not recent but dates back to this summer. These aircraft were not operational for the simple reason that they were withdrawn from service in 2004 and stored in the open air on the military side of Skopje airport. Satellite photos confirm their abandonment and were moved only on three occasions:
July 16, 2007 and after, the four aircraft are placed in front of the military parking areas
June 6, 2009 to January 17, 2011, the Su-25s are located on a parking lot between the taxiway and the first military buildings, together with Mi-24 combat helicopters
July 1, 2012 to February 24, 2022, they are moved a third time together with the Mi-24s on a parking lot located north of the renovated military area.
The following satellite photo, dated August 9, 2022, shows no trace of the aircraft either at their parking area or at Skopje airport.
It should be noted that these aircraft are no longer in flying condition. Still, they represent a potential for the Ukrainian Air Force because these four attack aircraft can be cannibalized to maintain the fleet of Frogfoot used by the Ukrainians. It should be noted that the North Macedonian media is now talking about a possible delivery of Mi-24 Hind.
Last satellite image of the 4 Su-25s in Skopje on February 24, 2022, next to 8 Mi-24s and 1 An-2.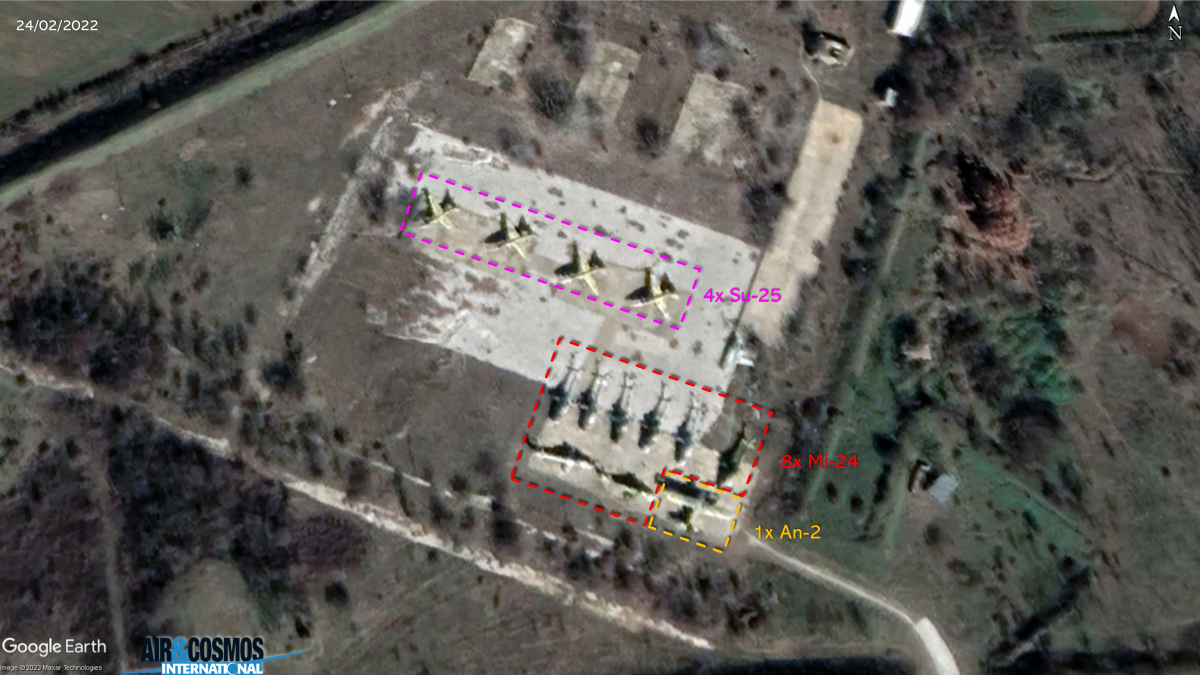 A return to Ukraine
In 2001, as Albania faced an insurgency, it decided to buy various second-hand aircraft from Ukraine:
4 Su-25 attack aircraft, including 1 Su-25UB
4 Mi-8MT armed transport helicopters
12 Mi-24 helicopter gunships, including 2 Mi-24Ks
Northern Macedonia is thus "returning" to Ukraine at least 4 of its aircraft. If an announcement of Hind's transfer is indeed confirmed, it will more than likely be all 8 Mi-24s. They are not airworthy and would therefore be used, like the Su-25 Frogfoot, as helicopters to be cannibalized. These helicopters would be identified as 6 Mi-24V Hind-E (an upgraded version of the Mi-24D Hind-D) and 2 Mi-24K Hind-G2 (specialized in offensive photographic reconnaissance and artillery fire control) but without any certainty.
North Macedonia Military Aviation
It should be noted that North Macedonia has a very little air force as it has only 6 aircraft and 12 helicopters, all located the one and only North Macedonian air base in Skopje:
1 An-2 light transport aircraft
5 Z-242 training aircraft
2 Mi-24V combat helicopters
4 Mi-8MTV medium transport helicopters
2 Mi-17 medium transport helicopters
2 UH-1H light transport helicopters (used for training)
2 Bell 206B light transport helicopters (used for training)