New Zealand has just retired its last P-3K2 Orion aircraft. These aircraft have flown just under 150,000 hours in 57 years of service. They have patrolled many seas, oceans and continents. One of the New Zealand P-3 Orions even holds the record for the longest flight in the world P-3 Orion fleet. These six P-3K2s will be replaced by four P-8A Poseidons.
Record-breaking aircraft retired
On Jan. 24, the last three P-3K2 maritime patrol aircraft of the Royal New Zealand Air Force (RNZAF) made one last flight before being permanently retired. The first aircraft were commissioned in 1966 and the entire Orion fleet of six aircraft was operated by the 5th Squadron, based at Auckland Air Force Base (Auckland, New Zealand). During their 57 years of service, these aircraft will patrol the seas of the Middle East, Southeast Asia, Europe, North America, as well as patrols in Antarctica and the Arctic. These patrols are quite long: a P-3 usually cuts one of its four engines to reduce fuel consumption and extend its range. Some aircraft also cut up to two of their four engines, allowing them to extend a patrol that generally lasts about ten hours. However, in 1972, a New Zealand P-3 Orion made the longest flight for a P-3 Orion, with a flight time of 21 hours and 30 minutes.
In addition to hunting Soviet and Chinese submarines, these aircraft have also participated in a very large number of search and rescue (SAR) operations or support to humanitarian operations; SAR operations during the Queen Birthday storm in 1994, first aircraft to perform a reconnaissance on Tonga after the volcanic eruption in January 2022,... They were also used for surveillance of New Zealand waters and the New Zealand Exclusive Economic Zone (counter-piracy, customs support, etc.). These 6 aircraft have accumulated a total of 147,978.2 hours of service. They will be replaced by four P-8A Poseidons.
It should be noted that the retirement was brought forward by 5 months due to a lack of qualified personnel and maintenance constraints. This decision therefore creates a capability gap for SAR and anti-submarine missions, but the RNZAF has already announced that some missions will be taken over by regional partners (probably American or Australian aircraft with anti-submarine warfare capabilities) or aircraft already in use within the RNZAF (for SAR missions). The first New Zealand P-8A Poseidon arrived in December 2022, but it is not enough on its own to fill the six Orions. The remaining Poseidons are all scheduled to arrive in New Zealand by July 2023.
57 years of operations and upgrades
In 1964, the New Zealand government found a replacement for its Short Sunderland seaplanes: the P-3 Orion. A total of five P-3Bs were purchased and the first aircraft was delivered in 1966 (No. NZ4201 to NZ4205). In 1983, the Rigel project allows the improvement of the capabilities of the New Zealand Orion. It includes in particular:
the replacement of the radar by an APS-134 (X-band) radar, allowing better detection of marine targets but also and especially, periscopes or even submarine snorkels
the addition of an IRSD camera
the digitization of internal systems
This modernization specific to the New Zealand Orions obliges a change of denomination: the improved P-3Bs become P-3Ks. This name was chosen to refer to New Zealand's iconic bird, the Kiwi. The latter is actually featured on the roundel of RNZAF military aircraft.
The last three New Zealand P-3K2 Orion maritime patrol aircraft during their final flight before retirement.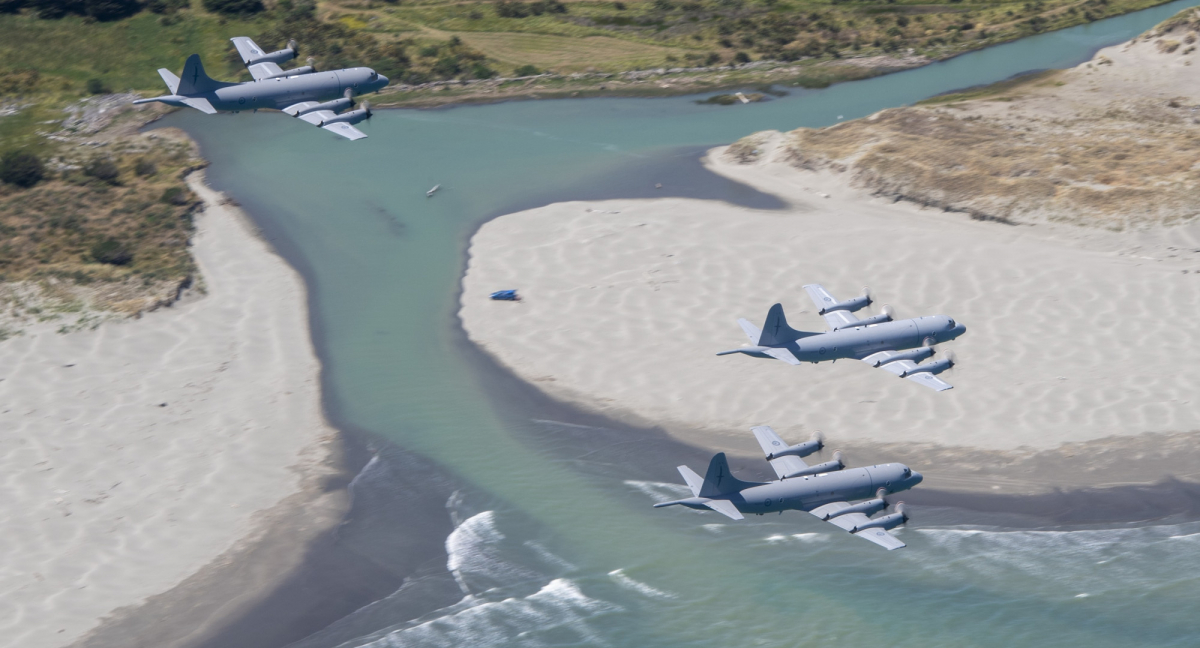 In 1985, a fifth aircraft was purchased second-hand from Lockheed Martin. This aircraft had been owned by the Royal Australian Air Force (RAAF) and resold to Lockheed Martin. Prior to delivery, this P-3B was also upgraded to P-3K standards.
In 1997, a life extension program, dubbed Project Kestrel, was launched. It aims to replace the outer wing section, the entire horizontal stabilizer, the lower center wing panels and the addition of new engine pods. Internally, a fuel dump system was added and all new electrical wiring was placed in the wings. Completed in 2001, this program adds 25 years of operations to the P-3Ks.
In 2005, it was decided to make major upgrades to the aircraft's internal systems: some systems dated back to 1966 and had not been changed since! This improvement, of 373 million New Zealand dollars must allow;
a modernization of the cockpit (glass cockpit)
a better concentration of the pilots on the mission thanks to the integration of a brand new flight management system and electronic flight instruments, digitalized radio navigation aids, a Traffic Collision Avoidance System, two GPS guidance systems LN-100G INS/GPS,...
the installation of a new Elta EL/M 2022A[V]3 radar (X-band, equipped with a secondary L-band antenna) specialized for maritime surveillance and SAR missions and with a range of 200 nautical miles, or 370 kilometers. It is connected to an APX-114 IFF antenna allowing the identification of friend or foe targets detected.
The installation of a stabilized MX-20 Wescam under the nose of the aircraft.
the installation of a Rockwell Cllins CS-3045 electronic surveillance system (search, identification, location and recording of electronic transmissions)
a strengthening of satellite and radio communication capabilities, a new Link 16
removal of the magnetic anomaly detector (behind the tail) but its protective cone remains in place (empty)
With this in-depth modernization, the P-3Ks become the P-3K2. The first P-3K2 entered service in May 2011 and the last in July 2014. The combat systems were not upgraded, but in 2016 Boeing received a NZ$36 million contract to add acoustic listening systems to the P-3K2 mission systems. These systems are actually used on the P-8A Poseidon.
P-3K2 Orion
The P-3 Orion is a four-engine maritime patrol aircraft developed during the Cold War. As demonstrated above, the P-3K2 Orion is the ultimate New Zealand Air Force variant. It is powered by four Allison T56-A 14 (4,600 horsepower). A standard crew includes two pilots, two flight engineers, three combat officers (tactical coordinator, information manager, system manager), four system specialists and an air ordnance specialist. Other features include:
Size: 36 meters long, 30.4 meters wingspan and 10.3 meters high
Cruise speed: 630 km/h
Standard endurance: 1,850 kilometers (1,000 nautical miles) with four hours of area flight. Endurance of 15 hours with two engines off.
Takeoff weight: 54.95 tons