With the October 10-11 bombings of Ukrainian cities, deliveries of modern anti-aircraft systems appear to be accelerating for the United States and Germany. France has also announced the delivery of anti-aircraft systems in the coming weeks, and other countries are expected to follow suit.
Two days of bombing on cities
Ukraine suffered two bombings on these cities earlier this week;
On October 10, 20 cities in Ukraine were hit by 84 missiles and 24 drones or "low-cost missiles."
On October 11, 30 Kh-101 and Kh-55 missiles were fired by Tu-95 and Tu-160 strategic bombers at the oblasts of Lviv, Vinnytsia, Dnipropetrovsk, Donetsk and Zaporizhia. Shahed-136 were also fired.
The property damage is extensive, with buildings completely razed, more than 20 dead and 100 injured. These bombings are critical for the population; they must prepare for winter while the buildings are damaged, windows destroyed, etc. The Russians announce these strikes as retaliatory measures following the destruction of part of the Crimean bridge (article on the subject).
Acceleration of deliveries of anti-aircraft systems
On October 12, more than 50 representatives of different countries had gathered in Brussels to discuss their support for Ukraine and this, following the bombings of the previous days. At the end of the meeting, a consensus was reached; to increase the delivery of modern or recent anti-aircraft systems to counter future bombings.
NASAMS delivered faster
John Kirby, the National Security Council's Coordinator for Strategic Communications, announced on October 11 that the delivery of the first two NASAMS would be moved up:
"We think we're on track to get those first two [NASAMS]out there[Ukraine]in the very near future. [...]We are certainly interested in expediting the delivery of NASAMS to Ukraine as soon as possible."
NASAMS is an anti-aircraft system developed by Norway (Kongsberg) and the U.S. (Raytheon) to be able to fire air-to-air anti-aircraft missiles but modified with a ground-to-air perspective. There are three versions of this system but no official information to confirm the version soon to be delivered by the Americans (more info on NASAMS in this article).
Recently Delivered IRIS-T
On Oct. 10, Germany's Defense Ministry had announced that the first IRIS-T SLM anti-aircraft system had been delivered to Ukraine. This is a medium-range anti-aircraft system capable of destroying many different types of air targets (aircraft, missiles, drones,...). It is in fact the first modern medium-range anti-aircraft system delivered to Ukraine (more info in this article).
French Rattlesnakes?
On the evening of October 12, French President Emmanuel Macron spoke about French military equipment deliveries to Ukraine. In particular, he announced that France would deliver radars and anti-aircraft batteries that can destroy drones and missiles in the coming weeks. The system or systems in question are not yet officially known. However, according to France 24, France is expected to deliver Crotale short-range anti-aircraft batteries.
As a reminder, the Crotale is an anti-aircraft system from Thales and MBDA. Apart from potentially deactivated and stockpiled versions, France has been producing the Crotale NG (New Generation) since 1990. The system comprises a single towed vehicle with an 8-missile launcher, a radar sensor and an infrared sensor. The missile is capable of destroying any drone, missile, helicopter and aircraft within a radius of 11 kilometers. Moreover, the missile would have a speed of Mach 3.5. The battery is very fast (5 minutes) and the reloading of a missile is done by a simple truck equipped with a small crane, and in less than two minutes.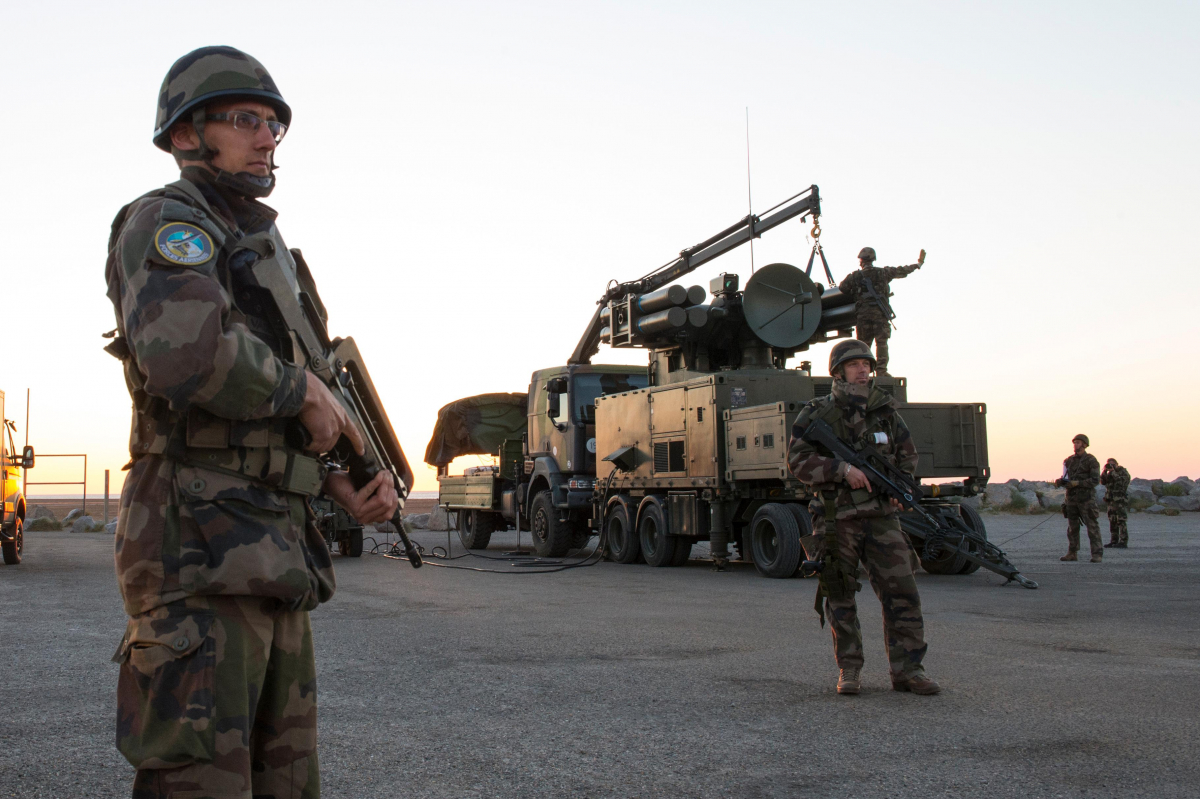 American Patriot and/or Hawk?
General Mark Milley, the chairman of the Joint Chiefs of Staff, announced that the goal of the deliveries was to give Ukraine the ability to create a true air access denial system:
"What Ukraine is asking for, and what we think we can provide, is an integrated air and missile defense system. [...] It is a combination of all of these that prohibits Russian planes, helicopters and missiles from the airspace. [...] [Ukraine] has very effectively used its SA-6 and SA-8, S-300 and SA-10, 11, etc. They have been very effective in preventing Russian air superiority. And that, in turn, deprived the Russians of the ability to conduct joint ground maneuvers."
He went on to emphasize that these systems are still inadequate and quite old, compared to the latest, or even recent, generation systems. In particular, he answered questions about the medium-range MIM-23 Hawk system or the long-range MIM-104 Patriot without announcing a delivery of these two systems but not closing the door on such an eventuality.
Medium-range missiles for NASAMS
On October 13, the British Ministry of Defense announced that it would transfer AMRAAM missiles to Ukraine. The ministry also specifies that they will not be used in an air-to-air configuration but ground-to-air, via the soon-to-be-delivered NASAMS. For information, the AIM-120 AMRAAM is a medium-range missile capable of destroying any type of air target. During tests by Kongsberg, 200 ground-to-air shots were fired, with an interception rate of over 90%.
Other systems that have already been delivered will again be transported to Ukraine. As a reminder, the British have notably delivered the MANPAD Starstreak and its mobile version Stormer HVM. Therefore, more deliveries of this type are to be expected.
4 Spanish MIM-23 Hawk
In a tweet (attached), Ukraine's defense minister confirmed that Spain will soon deliver 4 MIM-23 Hawk medium-range anti-aircraft systems to Ukraine.
Spain purchased its first HAWK systems in 1965. Over time, it has bolstered its anti-aircraft defenses by purchasing additional systems or by receiving 4 I-Hawks from the United States as a thank you for the use of its military bases. Hawk batteries are also updated many times as this system is expected to be retired by 2030.
Missiles are not the only ones being upgraded as a battery also includes radars. These are thus upgraded, and Spain began upgrading its radars to Hawk 21 standards in 2021. A Hawk 21 battery thus includes AN/MPQ-64 Sentinel (detection) and AN/MPQ-61 HPI (engagement with low altitude and multiple altitude capability) radars.
Interestingly, Ukraine has already received Sentinel radars and the NASAMS system is also compatible with this radar (NASAMS-specific article). Ukraine can then create some anti-aircraft mesh consisting of modern detection systems for modern but differently made anti-aircraft batteries.
And many others
Other countries have also signaled their willingness to support Ukraine by delivering or funding anti-aircraft systems, but for now, no specific model is known yet. We will have to wait for announcements in the coming days or conversely, the first images in the coming weeks during deliveries.
Article updated on October 13, 2022 at 23:30.