For some time now, Ukraine has seen an increase in its self-propelled artillery capabilities. France, Germany and the Netherlands have announced the upcoming delivery of self-propelled howitzers. Ukraine has also contracted for rapid deliveries with Poland and the Czech Republic. The Ukrainians will also receive American and probably British rocket launchers with a range of 70 kilometers in less than a month.
A capacity increase of more than 16%
Before the start of the Russian offensive, Ukraine had just over 600 self-propelled howitzers. However, since April, the various countries supporting Ukraine have begun delivering various types of heavy equipment, including self-propelled artillery howitzers. These deliveries have been particularly accentuated lately: the Ukrainian Army has seen or is about to see (some deliveries are in progress) an increase of more than 16%. This figure may seem paltry, but:
this is an increase made in just a few months
the equipment delivered is modern, as opposed to many Ukrainian pieces dating from the 60s-70s (some are modernized nonetheless)
this is a minimal increase as some countries do not give precise indications (with the uncertainty around the exact number of additional CAESAr and M109s, this figure could approach 25%).
It is also important to consider the logistical benefit of these howitzers they have all been designed within the framework of NATO standards, with a standardized 155 caliber and can therefore use 155 shells from Alliance member countries but also from partner countries with NATO or equivalent standards.
Two multiple rocket launcher systems are also on the list and will increase deep strikes the French CAESAr, Czech Zuzana 2, Polish Krab and German PzH self-propelled guns all have ranges from 30 (standard shells) to 55 kilometers (propelled shells). However, with the upcoming delivery of the HIMARS and M270, Ukraine will increase its deep strike capabilities, with a range of 70 kilometers.
New French CAESAr
During her visit to Ukraine, the Minister of the Armed Forces, Catherine Colonna, specified on May 30:"[...] This was quickly translated into action. Minister Kuleba reminded you in particular of the arrival of CAESAr guns; others are expected. We don't usually talk about these issues openly or in the public square; we talk about them among friends. [...]".
Ukrainian Foreign Minister Dmytro Kuleba further clarified that "[these howitzers]have proven to be reliable and effective weapons. [...] But these are not the only weapons that arrive from France and for each weapon we are grateful." As a reminder, Ukraine has already received 6 CAESAr from France.
The truck equipped with an artillery system (CAESAr) is produced in France by Nexter. It is renowned for its stealth on the battlefield : its crossing capabilities, its very good mobility (6x6 chassis) and its very fast reloading mean that in less than three minutes, the howitzer set up, fired 6 rounds and started moving again (so-called shoot-and-scoot operation). In fact, the CAESAr system is very difficult to destroy via enemy counter-battery fire.
This mobility must also be combined with very high accuracy. This is obviously not available for the models currently in service. On the other hand, one of the first prototypes built was presented in October 2002 to American artillerymen who were impressed; all the shells fired exploded within a maximum radius of 50 meters around the target, with a direct impact for 20% of the shells.
Eight Czech Zuzana 2
Slovakia continues to offer a number of heavy equipment. The Slovak Defense Minister confirmed in a tweet this June 2 that Ukraine has ordered eight Zuzana 2 self-propelled guns. Unlike the CAESAr, the gun is installed in a 360° turret. Unlike very many howitzers, the gun is placed in a separate compartment from the crew and loading is done by an automatic loader.
The Zuzana 2 reportedly holds the Multiple Round Simultaneous Impact (MRSI) capability: by varying the elevation of the gun, the power of the propellant charge, and the speed of reloading, a gun can fire multiple shells that will explode at the same time on the target. The shock effect is thus much greater for a single isolated gun but also gives a very effective shoot-and-scoot capability.
A record export for Poland
Poland had already offered 18 Krab self-propelled howitzers to Ukraine in May and trained 100 Ukrainian artillerymen in their use. Now, Ukraine has ordered 54 Krab from Poland, worth $700 million, the largest export contract for Polish military equipment in about 20 years.
The Krab is a 155-mm tracked self-propelled howitzer. It is produced by the Polish firm PGZ and combines :
a South Korean K9 self-propelled gun chassis
a British AS-90M self-propelled gun turret
a German Rheinmetall 155-mm gun (range 30 kilometers, possibility up to 40 kilometers using propelled shells)
It is slower and heavier (67 km/h, 48 tons) than the ZUZANA 2 (80 km/h, 31 tons) or CAESAr (100 km/h, 17.7 tons) notably because of its armor.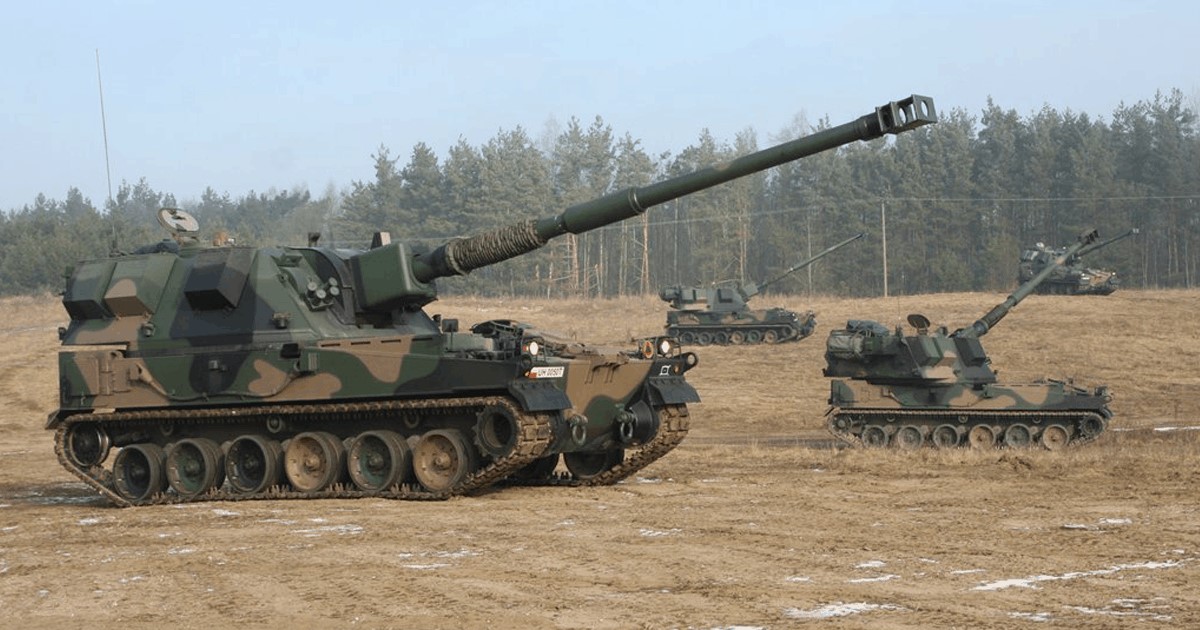 German and Dutch PzH2000s
On May 6, Reuters published that Germany would train some 20 Ukrainian artillerymen with a view to delivering 7 PzH 2000 self-propelled guns. The Netherlands also announced the next delivery of PzH 2000 but without giving the exact number of vehicles given. This artillery system is one of the heaviest in Europe, with a mass of almost 58 tons. It is also equipped with a 155-mm gun, with a range of 30 kilometers, with an extension to 40 kilometers for power-assisted shells. It also includes an MRSI capability, an automatic loader (20 shells in less than 2 minutes) and, above all, very thick armour. Despite its mass, its engine gives it a speed of 60 km/h on the road and an amazing 45 km/h off-road (the CAESAr, already very mobile, can run off-road at a speed of 50 km/h). In this tweet from June 2, Germany's Federal Ministry of Defense confirms that Ukrainian training is underway.
The Case of the M109
Since June 2, four M109s have been photographed in Ukraine (tweet here). No country has so far announced the delivery of this type of self-propelled howitzer. However, these models are reportedly from Norway and are believed to be M109A3GNs. Some sources announce a delivery of more than 20 Norwegian M109s but this figure is yet to be confirmed.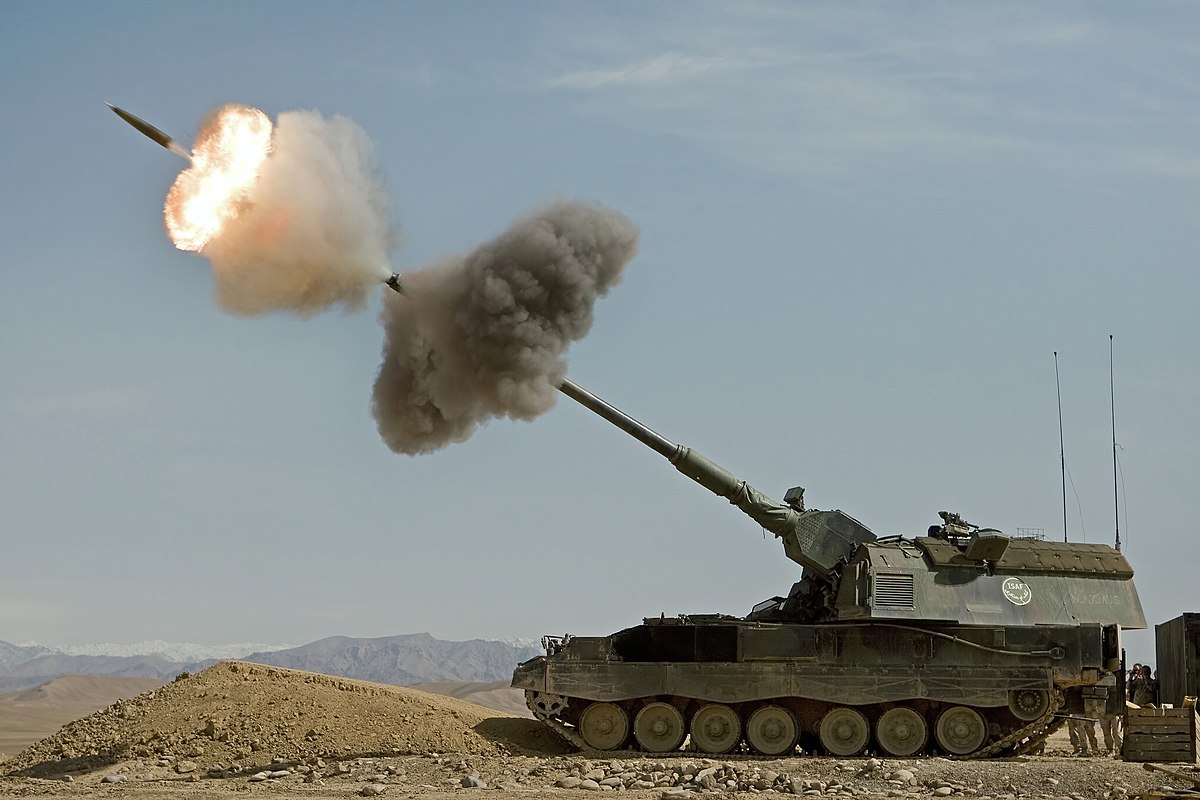 There are also the Belgian M109s. The Land Component had parted with its self-propelled artillery capability in 2008, a total of 64 M109A4BEs. These howitzers were sold in 2015 to a private company specializing in the resale of military equipment (including 36 sold to Brazil). Ukraine was interested in these howitzers since they were renovated for resale. Unfortunately, the company in question resold them. Now, according to the Belga news agency, quoted by RTBF, Belgian Defense Minister Ludivine Dedonder has let it be known that the howitzers were purchased by Ukraine or in any case, are being delivered to Ukraine. Thus, it would be potentially 26 additional self-propelled howitzers for the Ukrainian Armed Forces.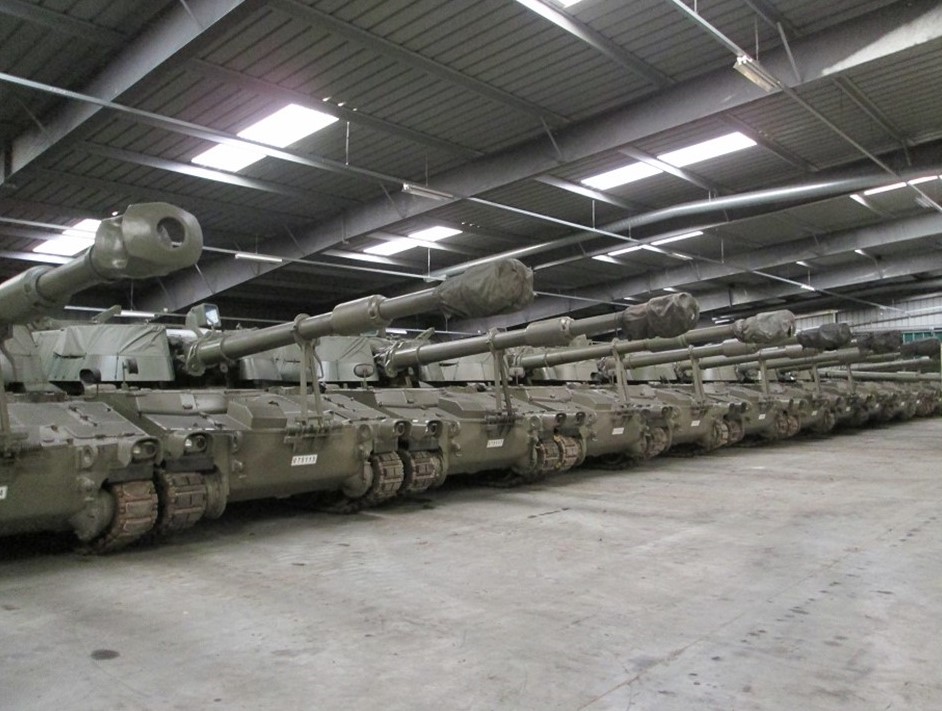 M270 and HIMARS for deep firing
The UK is reportedly about to give Ukraine an unspecified number of M-270 multiple rocket launchers (MLRS). This is a 25-ton tracked vehicle capable of firing 227mm rockets with a range of 70 kilometers. The Americans have already announced the training of Ukrainian artillerymen for the delivery of four M142 High Mobility Artillery Rocket Systems (HIMARS). Specifically, the HIMARS is a lighter version of the M270, with a mass of 16 tons, using the same 227 mm rocket basket but mounted on a 6x6 chassis of the FMTV M1140 truck.
These two vehicles have a carrying capacity of two ATACMS missiles (300 kilometers range) or its successor, the Precision Strike Missile (500 kilometers range). However, the United States has decided not to deliver these two missiles in order to avoid an escalation of the conflict, especially if one of these missiles is fired at Russia. The 70-kilometre range of the 227-mm rockets still offers a deep counter-battery capability for the Ukrainians. Conversely, these MLRS can move away from the area of fire and some of the Russian artillery while supporting Ukrainian troops in their advances.
This article only includes self-propelled artillery pieces and thus does not take into account the M777, FH-70, etc. towed guns also offered by many countries.