During the first two phases of the Orion 2023 joint exercise, various assets were projected to simulate several missions that could be repeated in future high-intensity operations: tarpon to get to a ship in the open sea, mass parachuting to quickly control an area and amphibious operations to deploy numerous assets from the sea.
Tarpon over Toulon
On Feb. 18, as part of the first phase (ramping up of committed elements) of Exercise Orion 2023, an Air Force C-130H Hercules took off at 08:40 (GMT+1) from its base in Orléans-Bricy (BA123, Loiret, France). It then headed off Toulon. Its mission was simple: to enable 21 marine commandos, 4 Futura light boats and several boxes of equipment to carry out a tarpon (airdrop at sea). The various components were recovered by the frigate Courbet (F712, La Fayette class). After almost 9 hours of flight, the aircraft landed at around 5:35 p.m. (GMT+1) in Orleans.
This mission demonstrates crisis surge capabilities: elements not present on Navy ships or in port can reach the ships in question by air without having to divert ships or a helicopter to a port.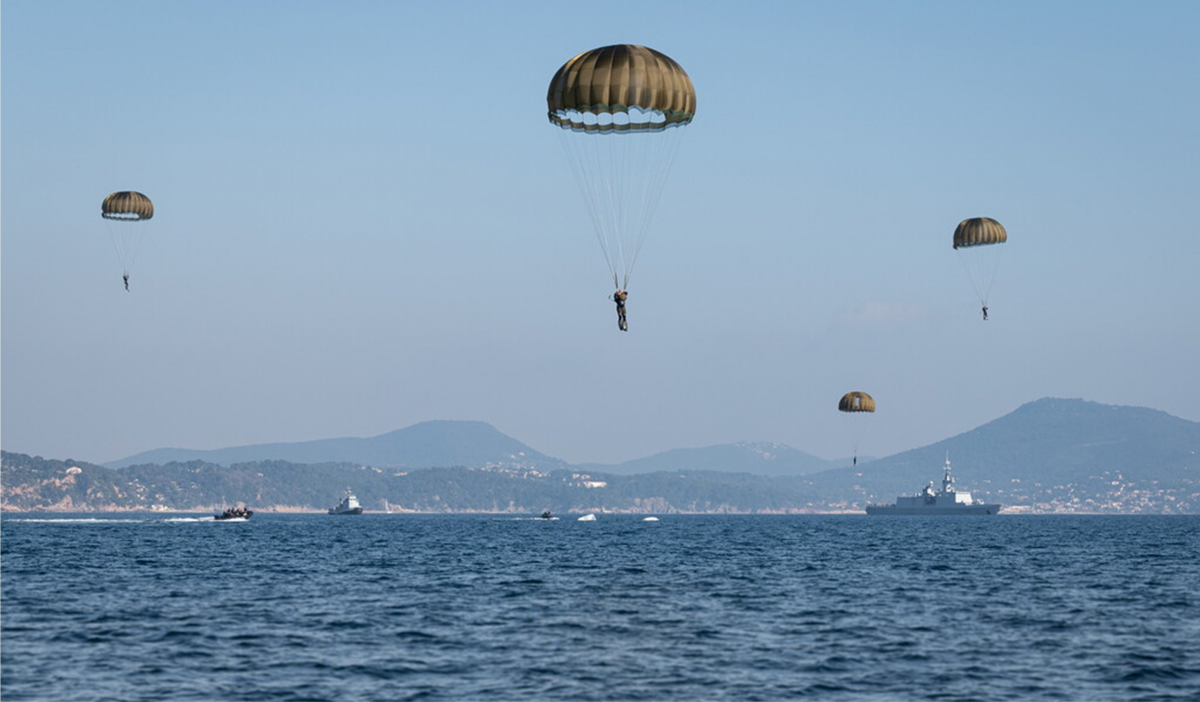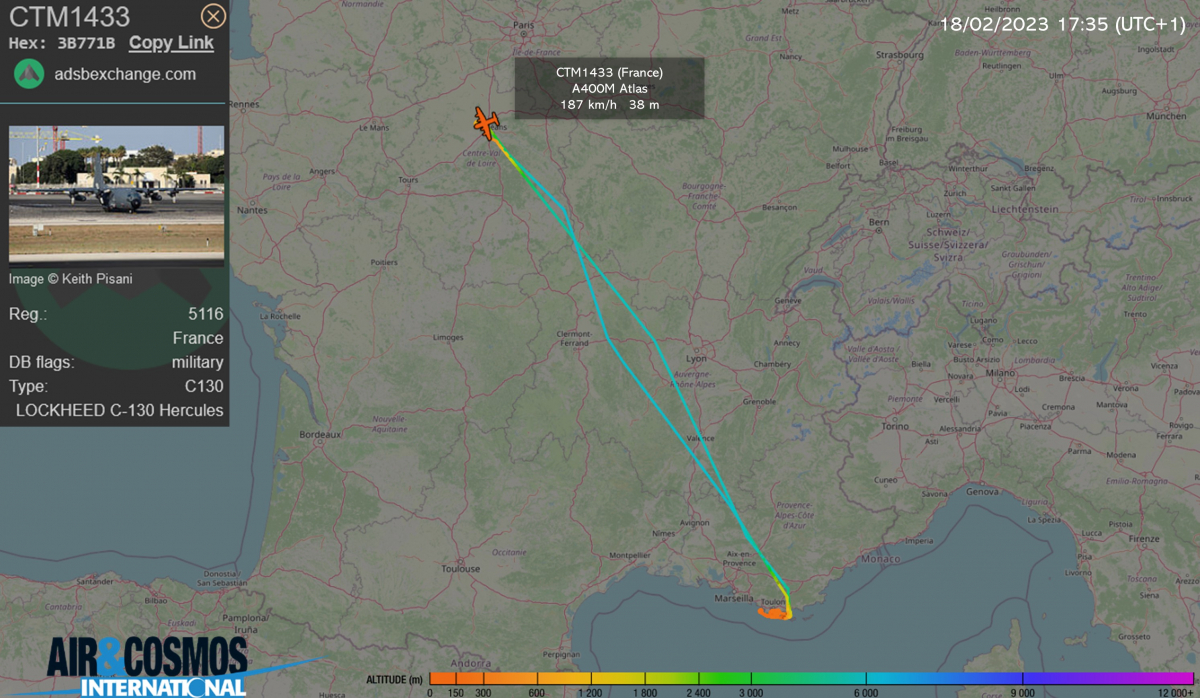 Paratroopers jump over Castres
With the second phase in full swing since Feb. 21, two parachute commando subgroups secure an area not far from Castres (Tarn, France) in the early morning hours of Feb. 25. Their action secured a drop zone for nearly 600 paratroopers of the 11th Army Parachute Brigade. The paratroopers were airlifted by C-130J and A400M aircraft of the French Air Force. It took them two rotations before dropping all the paratroopers and their equipment, including;
Light Armored Vehicles (LAVs) for armed reconnaissance and liaison missions. It is a 4x4 vehicle, lightly armored (3.8 tons) and equipped with a 7.62 or 12.7 mm machine gun with the possibility of adding a MILAN firing post (anti-tank missile launcher).
Rider Fardier, for the rapid transport of paratroopers and special forces. These are very light vehicles, 4x4, used to transport personnel but also equipment (in a trailer) or towing certain specialized equipment (special trailers, heavy mortars, ...).
Once in the area, the paratroopers had the mission to deploy, destroy or rout the enemy (materialized by other units of the French Armed Forces) while expanding the perimeter under their control.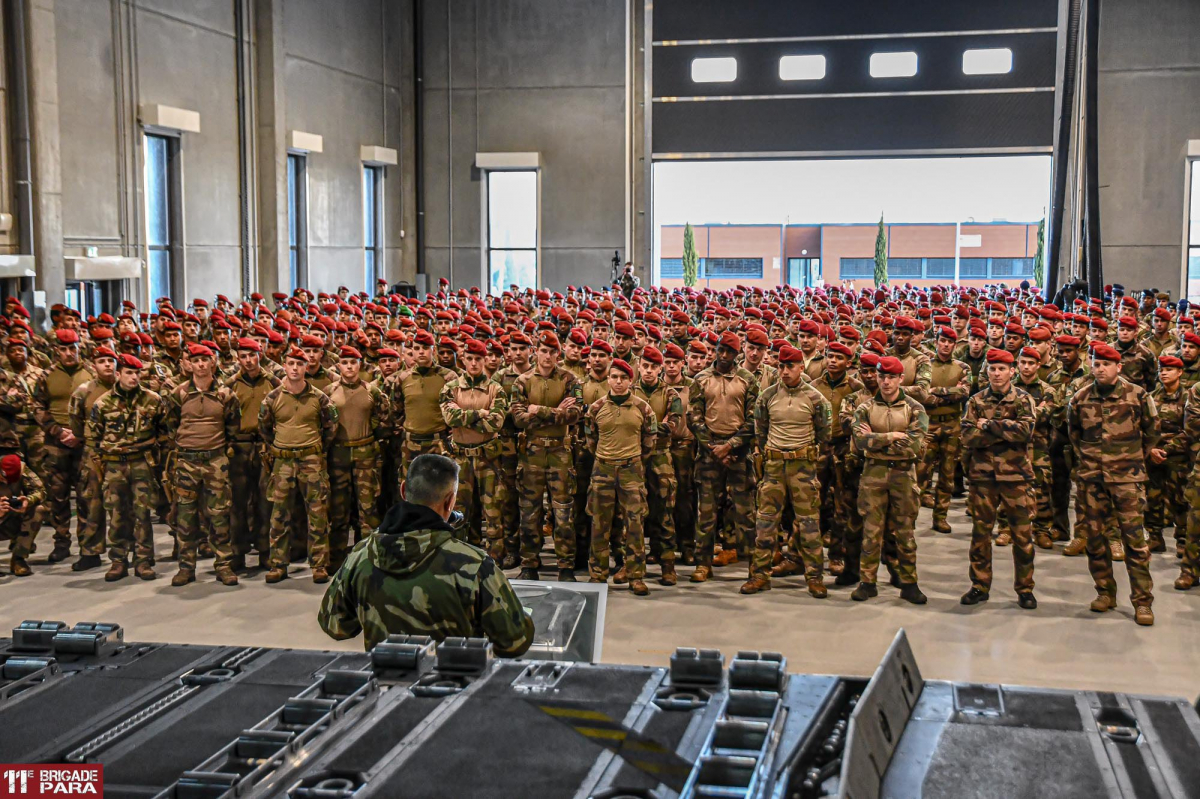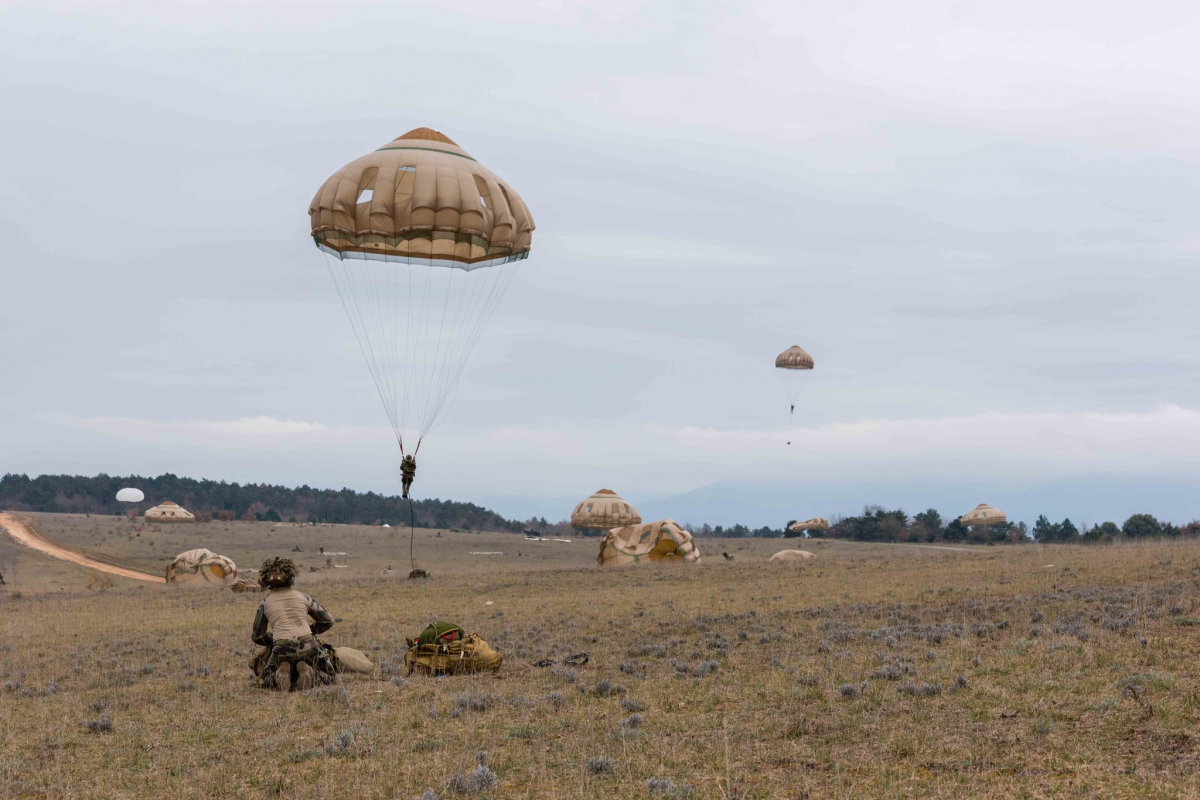 Landing in Herault
On Feb. 26, maritime elements were conducting landing operations in Sètes and Frontignan (Herault, France). It was an opportunity to see a wide array of the Navy's landing capabilities, represented by the PHA Mistral and Tonnerre (L9013 and L9014, Mistral class, LHD). Military personnel, their vehicles and other equipment were then landed ashore using the three types of landing craft in service with the Navy;
the massive EDA-R, fast amphibious landing craft, 80-ton carrying capacity
the older CTM, equipment transport barge, 90-ton carrying capacity
the brand-new EDAS, standard amphibious landing craft, 80-ton carrying capacity, is scheduled to replace the CTMs in the near term.
Groups have also been deployed thanks to ALAT (Army Light Aviation) helicopters. Nearly 700 men and their vehicles were deployed in the Hérault. It should be noted that the LHDs were not only used as a maritime platform or command center: mock casualties were also transported to train the ship's medical team. As a reminder, each Mistral class ship includes a rank 3 hospital (fully equipped, high capacity, 2 operating theatres,...).
The third and last LHD of the Navy was absent from this exercise as it is currently deployed as part of the Jeanne d'Arc 2023 mission.
These different actions are only the emerging part of the first two phases of Orion 2023. A group belonging to the Special Forces notably neutralized an ASMP/T Mamba launcher with the addition of an electronic implant (related article). This exercise is joint; cyber capability is considered and used in the same framework as units deployed in the field, as well as simulated air combat, deep missile fire, etc.