Two J-10Cs in Pakistani Air Force colors have been spotted at a Pakistani air base. The arrival of these two aircrafts demonstrates Pakistan's desire to counterbalance the rise of power of the Indian Air Force since its order for Rafales.
A region in the midst of a geopolitical crisis
India and Pakistan have been sworn enemies for several decades. Although the current situation represents a frozen conflict, it is not uncommon to see skirmishes between soldiers in the Kashmir region. In February-March 2019, tensions rose to a new level with the use of fighter jets by both countries, with an Indian air raid on an alleged terrorist training camp in Pakistan. These two countries are therefore equipping themselves in order to be able - at the very least - to have a power equivalent to that of its neighbor.
While India is equipping itself with both the United States, Russia and France (notably with Rafales), Pakistan has, on the other hand, become dependent on China (loan of more than 50 billion dollars, lease of the port of Gwadar for 100 years to Chinese companies..) and buys a lot of equipment in the country.
An outdated combat fleet in full renewal
It is in this frozen geopolitical context that Pakistan felt a need to modernize its fleet of combat aircraft. However, since the country's rapprochement with China, the United States (Pakistan's former ally and supplier) has refused to sell new aircraft or even upgrade the already delivered aircraft. At the same time, the United States does not want to offend its new regional ally and enemy, India. As a result, Pakistan's Air Force is quite aging and officially comprises about:
135 F-7s (Chinese version of the Mig-21) acquired between 1987 and 2010. Although some variants are recent, their overall structure and systems are no match for much more modern aircraft.
69 Mirage III EP/OF/RP, received between 1969 and 1977. Along with the Mirage 5s, they are focused on missions requiring armed reconnaissance aircraft or fighter-bombers.
90 Mirage 5 EF/F/PA, received between 1971 and 2004.
75 F-16 A/B/C/Ds, arrived in Pakistan between the 1970s and up to 2010 for the most recent. They represent the main fleet of Pakistani fighters, but the obsolescence of some models and the rapprochement of the United States with India prevents Pakistan from renovating them or buying new versions.
135 JF-17, acquired in the early 2010s, they should allow Pakistan to be able to replace the fleet of Mirage III and Mirage 5. However, these light fighters are no match for heavier fighters, such as the Indian Su-30 MKI and Rafale DH/EH.
2 J-10Cs out of the 25 ordered. However, this figure is expected to increase in the short to medium term to counterbalance additional Indian Su-30MKI purchases but also future aircraft embarked on the Indian aircraft carrier (F/A-18E/F Super Hornet or more likely, Rafale Marine).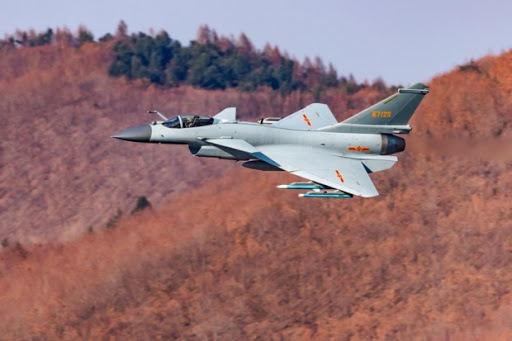 A significant Achilles heel
The J-10C is the most improved variant of China's main fighter jet. Thus, the cockpit integrates a HOTAS system and electric flight controls, it can carry 5.6 tons of weaponry (including the PL-15, the latest Chinese long-range missile), fly at 2,327 km/h, has a range of 1,850 km and can be refueled in flight.
Even though it is supposed to compensate for the integration of the Dassault Rafale by the Indian Air Force, the J-10C remains theoretically inferior to it, especially for its engine. For a long time, the Chinese aeronautics industry has been dependent on Russian-made engines (officially built under license or directly copied). For several years, China has been trying to break into this field but locally produced engines have proved disappointing.
As an example, China was largely inspired by the American C-17 for its Y-20 transport aircraft. However, and even though the latter is smaller than the C-17, it remains much less efficient because the engines that were originally intended to equip it were not powerful or reliable enough. They were therefore finally replaced by Russian engines. So, if the J-10C seems to be flying already in China, we have to wait a while to see if the Chinese WS-10B engine will be really reliable and will meet Pakistan's expectations. For the country must eventually hold a large number of combat-ready aircraft, and a low level of availability could call into question the country's capabilities.